Local Automotive Repair & Towing Services in Castleton, Vermont
We take pride in providing professional automotive repair service at fair prices. We will repair all makes and models of cars and trucks (domestic and foreign), including diesel engines. Our staff includes several ASE certified mechanic technicians.

We're Here For You! 24 Hour Roadside Assistance

800-853-7574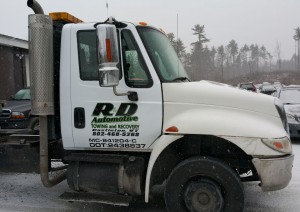 We provide 24 hour towing, lockouts, jump starts and tire repair. R&D Automotive is an authorized roadside assistance provider for AAA, AARP, Allstate, Geico, Nationwide and State Farm, among others.
When your car breaks down or you are locked out of your vehicle, we will come to your rescue quickly and professionally, at a reasonable price! Our fleet of wreckers and flatbeds are available 24 hours a day. We have drivers on call and ready to assist whenever you need help.
We are also an Official AAA Battery Service Provider.
Recommended by Castleton University for service and repair assistance to their student body and faculty vehicles.
Call us at R&D Automotive, Inc. for all your automotive needs!